We are currently working on a new community to provide safe and permanent housing for adults with intellectual, developmental and acquired disabilities. Over the years we've helped create pocket neighborhoods for singles and empty nesters, market-rate multi-generational buyers and folks needing affordable housing. When developer Mark Roth approached us about creating a safe and supportive pocket neighborhood for disabled adults like his daughter, we were all for it. "Few options exist today for adults with disabilities, or for their families," says Roth. "Pocket neighborhoods are a great concept and already popular, especially among adults seeking greater energy efficiencies in their homes and more intimate community living and support systems."
Builder Online posted an article with more background and information on the proposed community, named Luna Azul.
The site Roth has chosen is in the Phoenix metro area—a very different climate condition and cultural heritage than most sites we work with. For this, we've developed vernacular design elements and materials familiar with the region. We're incorporating deep arcades, trellised ramadas and fountains. Fundamentally, though, the community includes many of the design bones we've used in virtually all of our pocket neighborhoods: small clusters, shared commons at the heart, corralled cars, layers of personal space, room-sized front porch, private back yard, nested houses, and more.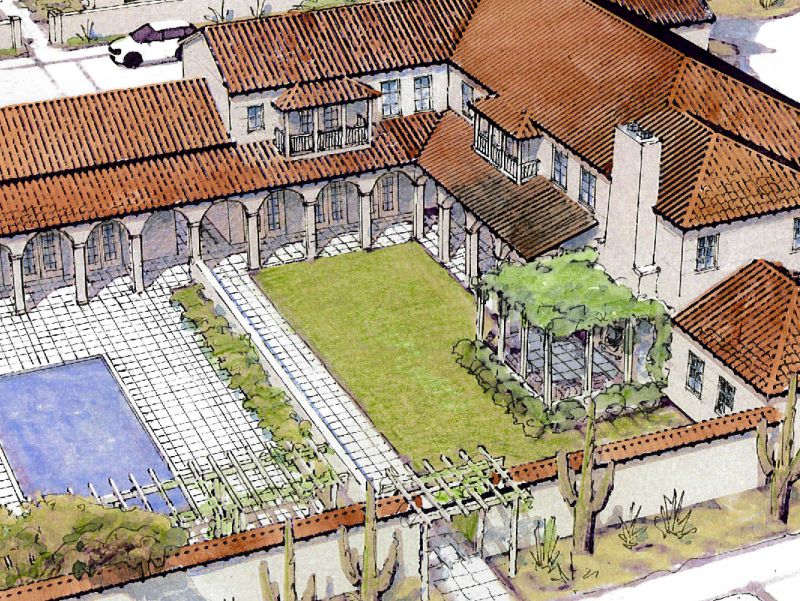 Holding the center between two clustered pocket neighborhoods (30 dwellings total) is the Center House, with community gathering spaces, exercise center, offices, and guest spaces. In the courtyard will be a pool and patio, covered outdoor room with a fireplace, and lawn.
Living in this community will be some residents who, because of their disabilities, are prone to wander. For this reason, there is a complete perimeter wall for their safety. We generally don't like gated communities; however, in this case, it's required. A guest coming to visit will first see the front of the two-story Center House—appearing like a gracious larger home. It is decidedly non-institutional. Cars tuck into a small lot shielded with a landscaped berm. To the side, in as non-descript manor as possible, a drive angles off to a gate. On the looped drive are parallel, pull-in and carport parking spaces for residents' families, guests and service providers.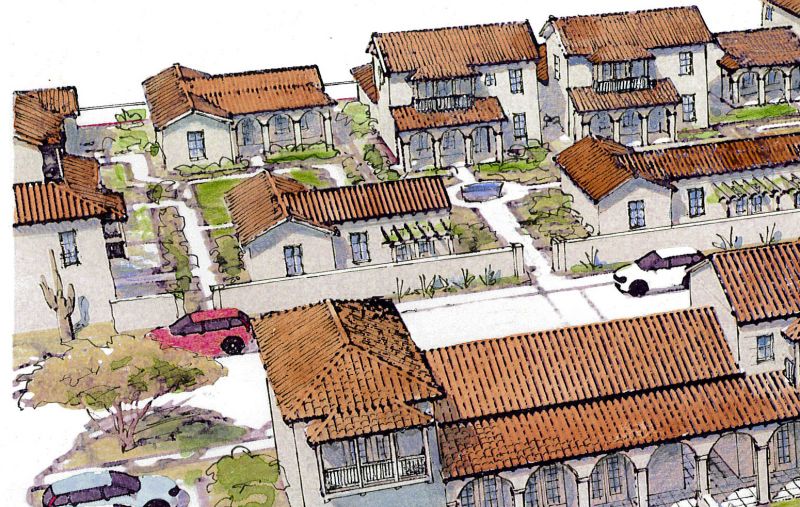 The housing clusters, while similar, are laid out with differentiating elements. For spatial clarity, especially for residents with autism, a central linear walkway ties the pocket neighborhoods through the Center House.
—Ross Chapin