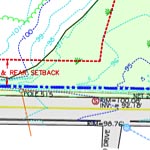 Finding the Right Parcel
Some parcels will be a perfect match for a pocket neighborhood, other sites not. Ideally, a pocket neighborhood is nested within a larger walkable neighborhood — close to services and amenities like grocery stores, cafes and restaurants, post office, schools and workplaces, and near public transportation routes. A small development of less than 8 residences is often best located on a center-block infill site; while a larger development considers the effectiveness of larger block layouts and open space. If you are exploring where you might build, we can bring our expertise to help you identify the ideal location for the best results.
Site Planning for Feasibility and Review
When you have a parcel in mind or in hand, we can work with you to quickly identify its potentials, whether it is a half-acre infill site, or a 25-acre site for new construction. We can review the approaches for zoning approval with your city planner and develop concept site plans and buildings for feasibility analysis and planning submittals. In addition, we have dozens of house plans from our GoodFit Portfolio that may fit into a site plan, or become inspiration for new plans.
Detailed Project Design
After concept planning, we can develop and help coordinate the detailed plans for project approvals, permits and construction.
Marketing and Sales Support
We don't stop with design. We know your goal is to sell houses, and we're thinking about this from the moment the public first hears about the project. We can help craft the talking points, provide visual materials to convey the ideas and the feel, and be available for media interviews. We have photos or related built projects and published magazine articles for promotion. We can work with your (or our) web designer to put out an effective website. And when you are ready to reach out to buyers, we can coach your sales team so your pocket neighborhood will stand out from the competition.
Contact Us to find out more about our Schedule of Development Services.