I am engaging in a lively Facebook conversation with friends from high school. The thread stemmed from one of those alluring photos of a row of tiny houses for a group of friends. One of my classmates asked, half jokingly, if anyone knew of a spot with a warm climate (we're from Minnesota) where we might do it. As the conversation went on, I asked if they imagined this to be a cluster of cabins for occasional long weekend retreats, or a place to retire to. And (nudging a more serious question), if they were serious, then when would they imagine? The answer from one: full time, in three years.
In response, I'm pulling up a story from my Pocket Neighborhoods book about a group of friends who did just that …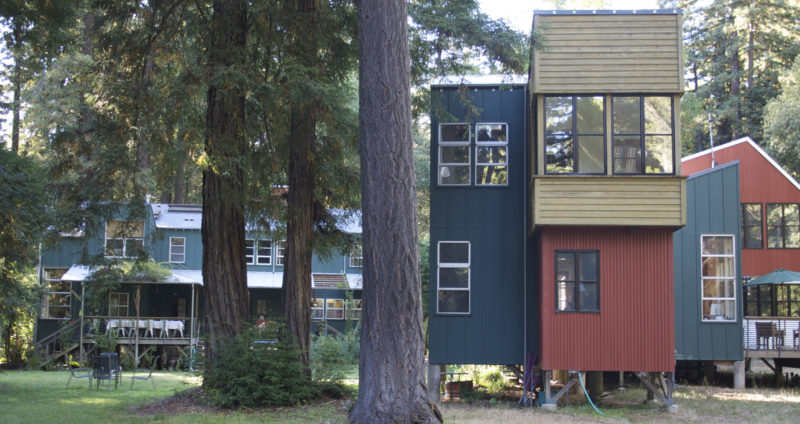 The camp began as an idea among friends as a place to retire.
It started like so many close friends who've said, "Imagine us all growing old together!" Except in this case, these friends acted on their dream. In 1987, seven households bought 20 acres of rural land in Northern California, hired a renowned architect from Berkeley, and built a collective house to retire in.
Five members of the seven households trace their friendships to the early 1960s in southern California, where they organized a co-operative nursery school for their children. The families grew close as they vacationed together, saw their children off to college, and celebrated weddings, births, and deaths. "Our kids grew up together, knowing each other like cousins," says Jill Myers. "When we thought about retirement, we wanted this family sense of intimacy to continue, especially for our grandchildren."
The group imagined a kind of year-round summer camp with an open invitation to their children's families and friends. Laura Hartman and David Kau of Fernau+Hartman Architects helped develop the camp theme into a design with informal and spirited buildings rather than standard fare housing.
Four colorful buildings—raised on stilts above the flood plain—form a wide V-shaped compound embracing a sunny clearing in the Redwood forest. Residents pass from one building to the next via connecting pergolas and covered walkways. Is this a hardship during inclement weather? "It's never been an issue," replies Myers. "If it's raining hard, we use the dash method!" During warm weather, living space expands out to covered porches for outdoor dining and overflow sleeping, complete with hooks for hammocks. And when grandkids and their friends come for the annual Summer Camp, the broad steps that cascade from the deck make ideal seating to watch their talent show.
Four couples and three single women have their own apartments and share a common kitchen/dining/living area, library, and laundry-sewing room. Their private units have a large bedroom, sitting room, and loft, but no kitchen.
Dinners are shared in camp-style fashion, with residents fending for breakfast and lunch on their own. The 15-ft. x18-ft. common kitchen holds nine in a squeeze, working at a commercial-style stove, two sinks, counters, and baking area. A saddlebag eating nook and spacious pantry supplement the space.
Meals are laissez faire. As one resident describes their arrangement, "While the kitchen is communal, no one is required to cook, or even eat with the group. 'Those who like to cook, cook; those who only like to eat, eat,'". There is a caveat to this arrangement, however. If you eat and don't cook, you have to clean up.
Contingencies have been considered for an elevator and ramps to allow for easier accessibility, but the group has not yet felt the need to act on these plans. Their first defense against infirmity is "being young at heart."